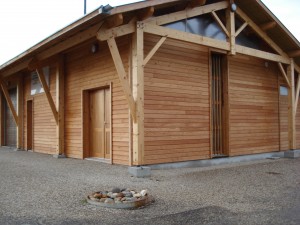 Located in the towns of Allemans du Dropt and Sauvetat Dropt, the Canoeing Club Valley Dropt is a 1901 association law created by Marc Lesimple and Max Delpy in 1994.
It aims practice and promotion of Canoeing in Valley Dropt.
The club is based around a bi-weekly paddling school every Wednesday and Saturday. It is open to everyone, at any age, provided you know how to swim and submerge.
A competitor group also trains every Tuesday and Friday nights and moves on competitions. In 2004 and 2009, two generations have managed to become "Champions of France Kayak Team Descent" wearing the colors of the club and the country Dropt.
Several times a year, members gather to discover other rivers and water activities and practice the disciplines Canoeing white water or sea
The club also participates in promoting Canoeing welcoming groups, holiday centers and individuals during the summer, but off-season thanks to three monitors State Patent and volunteers confirmed.
The Canoe Club Valley Dropt is one of the only sports associations to use the river "Dropt" throughout his career. So this is a unique look at our valley we offer through our practice.